Quality Policy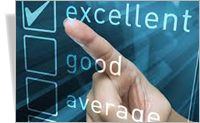 We at Med Gas N Equipment are committed for total customer satisfaction by providing consistent quality products with continuous improvement in our process and following the system and procedures.

We are dedicated to achieve excellence in quality standards and adapt ourselves to the changing needs of our customers.

Our emphasis to quality is best highlighted with our ISO 9001: 2008 certification.

Environment Policy :-
Med Gas N Equipment is committed to protect the environment through excellence in environmental performance and continual improvements in our operations, products and services. Our environmental objective is to achieve compliance with legal and other requirements. Continuously reduce actions, if any which effects the environment and conserve natural resources. Our commitment is adhered as our ISO 14001: 2004 certification.

Safety Policy :-
Safety is of utmost importance and it should be given priority to all other aspects. Our company recognizes this and provides all the equipment, tools and facilities to its employee so as to carry out the activities in a safe manner without any injury. The company has set procedures for safe working and carries out regular training and safety programs.

Apart from in-house development of awareness towards safety, we also discuss with our customers on safe handling of our products and its usage. Our commitment to Safety, has lead us to work within the guidelines of OHSAS 18001 so as to obtain its certification.